My love for the tribal craft/folk art from various regions and my thoughts of incorporating those into everyday life keep me connected to my roots as I try to learn and find why the artisans incorporated such ideas and techniques into their artworks or forms.
This wall mural is one of those. Done a few years ago, it measures 64 cm in diameter. One of my first big works which kept me worried about warping until it was fired and it came out fine from the kiln.
Inspired by the lippan Kaam/mud mirror work on the Bhungas of Rann of Kutch, Gujarat, this craft has a long lost history that comes from the nomadic tribes of the region.
Bhungas are circular huts of local nomads from the Kutch region in Gujarat. They have thatched roofs, and their structure is known for its stability in the harsh climate of the region, where sandstorms and cyclonic winds are common (I haven't visited this place, but it is in my wish list).
Traditionally, an equal proportion of finely sieved clay and camel or wild ass dung is used to prepare the dough consistency mixture for application. But as the dung attracts termites, millet husk is substituted for the same purpose.
The motifs generally involve ones from the surroundings in everyday life like mango trees, birds like parrots and peacocks animals like camels , elephants. These are mostly done freehand using the coils made out of mixture and the pinching technique to create the motif patterns. Mirrors called abhalas of various shapes are embedded on the surface.
After the clay has dried off, a coat of white clay that comes from the sand in the salt marshes is painted over the surface.
The interiors of the Bhungas are adorned with the beautiful mud mirror work. These serve a special purpose of lighting up the interior of the house. Even a single lit up lamp gives a beautiful reflection from the glittering mirrors on the walls.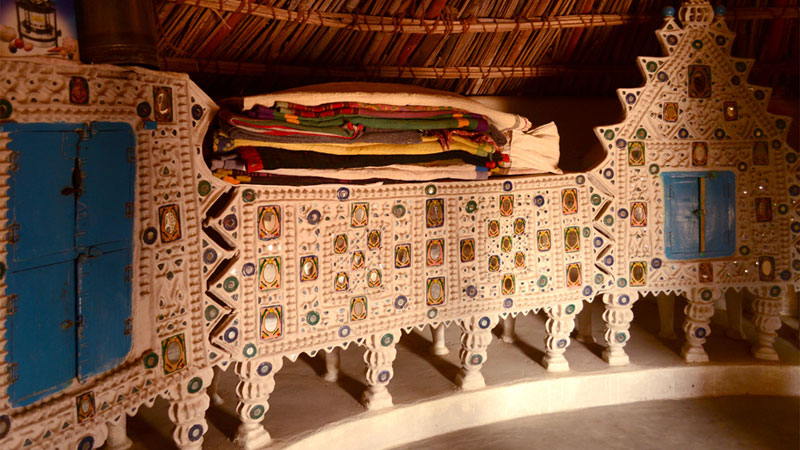 Much fascinated by the ideology behind this craft, I was keen to have it on the complete wall but since it was the first time for me doing a wall mural, I did not have the courage to go for that kind of scale. The work was made in four matching quadrants and put together post firing. The motifs were carefully planned for each quadrant, making sure that they blend together in a perfect circular pattern. To mount it on the wall, it was a must for the pieces to remain flat after firing. As a result It went through very slow drying process while adding the relief work at the leather hard stage of the slab. Flipping the slab after every few days, keeping it covered in the plastic to provide even drying helped. I could not emboss the mirrors as in actual process but I added them on the surface at the final stage of completion.
It proudly adorns my living room wall nowadays. Though I still wish to have a full wall of this work in my house…Some day!! 😂 💕